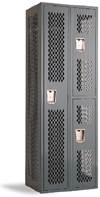 Penco's new All-Welded Lockers give you a choice between our traditional K.D. locker lines and All-Welded setup lockers.

All-Welded lockers offer superior resistance to hard use and abuse. All body parts are welded into a single rigid unit to resist damage for the life of the product. The backs, tops, bottoms and shelves of each group of lockers are from one piece of steel that spans multiple lockers. The doors are made from 14 gauge steel. Sides, tops and bottoms are 16 gauge steel. Backs are 18 gauge. Doors have continous hinges.

Since All-Welded lockers are shipped pre-assembled, the time and expense of on-site installation is greatly reduced. This is a great help where labor is either extremely expensive or hard to find. Groupings will be determined by Penco based upon the floor plan layout drawings submitted with the order.

All-Welded lockers are available as standard in ventilated models with diamond-shaped perforations in the doors and sides for maximum visibility and ventilation or with solid door and side construction, with or without door louvers. The perforated models are ideal for heavy duty athletic use where ventilation is important to aid the drying of athletic gear.