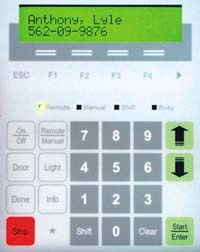 Lektrievers exclusive operator console
	is the only standard-priced control
	system in the industry offering a
	two line informational display. When
	interfaced with a PC, the display 
	identifies the next file or item to 
	be removed or replaced.
		
	
	When any of the safety systems are
	activated causing the machine to stop,
	the console displays a text message
	identifying the safety breach.
		
	
	Unlike other systems in which
	imbalance occurs without warning
	Lektriever prevents the possibility of
	carrier imbalance by providing text
	and audible warnings when the unit
	reaches 80% of capacity. The console
	will automatically display the range of
	carriers requiring weight adjustment.